Wheels of Love, a wheelchair outreach program, collects wheelchairs, crutches, canes, and walkers throughout the whole Metro NYC area by distributing these items to the disabled individuals living abroad. According to the JAF International Ministry, the WHO estimates that there is a need for 20‐30 millions wheelchairs around the world. In some of these countries the cost of a wheelchair can equal a year's wages, resulting in the impossibility for people affected by disability to ever receive one. Living in isolation, lacking simple mobility, and being cut off from life, many of the disabled are also tragically cut off from their local church. As a result, many have never heard a gospel message or experienced the love of Christ.
Wheels of Love endeavors to assist the missionaries who have been laboring to meet the physical and spiritual needs of the disabled around the world by providing them with wheelchairs and other rehabilitation equipment in the love of Jesus Christ.
Wheels of Love create disability awareness and provide us with an opportunity to be a partner in global missions by collecting, cleaning, and transporting the donated wheelchairs to the certain individuals with disabilities in the name of the Lord.
You can send a brand new wheelchair for $150.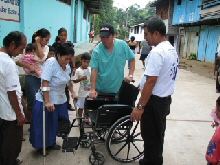 International Mission Association, Inc.
135-53 Northern Blvd. 3rd Floor
Flushing, NewYork 11354