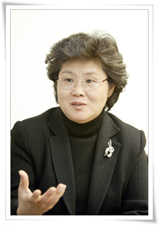 Greetings!
Thank you for your interest in the IMTV and welcome to our homepage.
I have seen many people through broadcast for 17 years; those who are isolated from our society, who eagerly want to hear Word of God, and co-workers who pray with us for our ministries. In that time, God healed and comforted our soul, and sent faithful co-workers to us. Whenever I obey His secretly wonderful works, I am deeply moved His marvelous grace and love.
When I started to the radio ministry, I thought that I would not be able to do this work. Now, I try to start the TV broadcasting in the same situation. At first time,
I was embarrassed when people suggested me to launch the TV broadcasting ministry, because I have never imagined about this ministry. I knew well how hard and difficult this ministry is. So, I had declined their offer several times.
However, in praying I realized that there is great God's will in this ministry. Without considering any priviate profit and honor, I've decided to take charge of the TV broadcasting ministry with faithful mind before God.
I believe that the TV broadcasting ministry is the opportunity that I who continue with the same work by habit can be rebuilt. I have ministered for 17 years since my husband went to the Lord. The TV broadcasting will be my second ministry. I hope to share many people with God's grace and love through the IMTV.
Thank you.
Sun Sook Park
Chief Executive Officer of IMTV