Greetings from Executive Director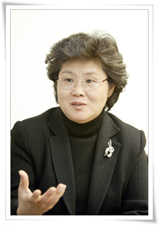 Ms. Sun Sook Park has been with IMA Inc. for 17 years as the executive director. She has worked for people with disabilities, patients at nursing homes, and furthermore, has helped oversee missionaries ministering the disabled in Communist bloc nations and underdeveloped countries. Also, she has worked as a radio broadcasting host. She comforts and encourages shut‐ins with the Gospel through her radio program, "Rejoicing with Thanksgiving."
Our Ministry


IMA has worked for people with disabilities with many things. What is IMA's ministry? How does IMA Inc. work? If you want to know more about the IMA, Click Here.


IMA Milestone


IMD Inc. was founded in 1990. From that time on IMA, partner of IMD, endured many joyful as well as sorrowful experiences. Many of its neighbors were having difficulties managing their physical and spiritual lives.